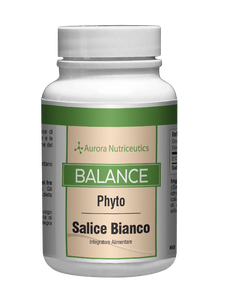 Willows food integrator indicated to promote joint function and localized tensions. Adjuvant in the regularization of the sweating process.
Assistant in the regularization of the sweating process.
Ingredients:
White Salice ES 25% - (Salix alba L.) bark
Battery agent: Cellulose
Vegetable capsule: hydroxypropylmethylcellulose
Anti-caking agents: Vegetable magnesium stearate, silicon dioxide
Quantity per daily dose of 2 capsules:
White Salice mg 380 (equal to mg 95 of salicin).
60 g vegetarian capsules 0.6 g Net Weight g 36.
Usage mode:
2 capsules per day, preferably away from meals.
Warning:
Keep out of reach of children under three years old, do not exceed the maximum recommended dose.
The supplements should not be intended as a substitute for a varied and balanced diet and a healthy lifestyle.
Preservation:
Store in a cool, dry place away from heat sources. The expiration date refers to the product in its packaging intact and correctly stored.
è la prima volta che prendo salice bianco, non posso confrontare marche e non ho lamentele da fare, è arrivato prontamente in ottime condizioni così pollici in su
Per l'artrite questa specifica maarca sta dando dei vantaggi al mio dolore, altre 2 precedenti nessun effetto.
quest'estate ho sempre avuto il solito dolore al ginocchio ma da quando ho scoperto il salice bianco và sempre meglio. Per fortuna l'hò scoperto, è un'anti-infiammatorio quindi in pochissimo via il dolore...
lo compro e lo ricomporo. per i miei mal di testa occasionali e davvero fantastico.