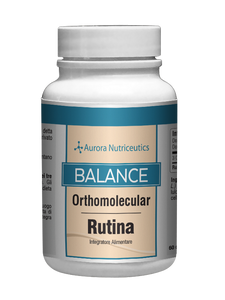 Dietary supplement based on Rutin, also called rutoside, which is a flavonoid glycoside derived from quercetin with antioxidant action.
Ingredients:
Rutin ES (

da sophora japonica)

Fiori

Vegetable Capsule: Hydroxypropyl Methylcellulose

Anti-agglomerants: Magnesium stearate, microcrystalline cellulose

Quantity per daily dose equal to 3 capsules:
Rutin ES mg 1440
60 vegetarian capsules of g 0,71 Net weight g 43,14
Usage way:
3 capsules per day, preferably between meals.
Warnings:
Keep out of reach of children under three years of age, do not exceed maximum recommended dose.
Supplements should not be intended as a substitute for a varied and balanced diet and a healthy lifestyle.

Conservation:
Store in a cool and dry place away from heat sources. The expiry date refers to the product in unopened package and properly stored.