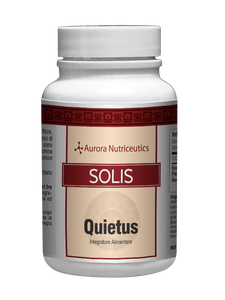 Food supplement based on Passionflower, Bacopa, Hawthorn indicated for relaxation in case of stress, promote sleep, Eucommia, Hawthorn are useful for the regularity of blood pressure, Melatonin reduces: the time to fall asleep, Vitamin B6 contributes to the normal functions of nervous system.
Ingredients:
Bacopa ES - (Bacopa monnieri (L.) Pennell) plant

Eucommia ES - (Eucommia ulmoides Olivier.) Bark

Passiflora ES - (Passiflora incarnata L.) flowering plant

Hawthorn ES - (Crataegus oxyacantha Medicus) flowers and leaves

Magnesium gluconate

Magnesium oxide

Vitamin B6 (P.

iridoxine)



Melatonin

Vegetable capsule: Hydroxypropylmethylcellulose

Anti-caking agents: Vegetable magnesium stearate, silicon dioxide

Bulking agents: Cellulose

Quantity per daily dose equal to 1 capsule:
Eucommia mg 100, Passionflower 100 mg, Bacopa mg 95, Hawthorn mg 60, Vitamin B6 mg 3 - 214% * NRV, Melatonin mg 1.
* NRV Nutritional Reference Value
Content:
60 vegetarian capsules of 0.75 g Net weight 45 g
How to use:
1 capsule per day, preferably between meals.
Warnings:
Keep out of the reach of children under three years, do not exceed the maximum recommended dose.
Supplements are not intended as a substitute for a varied and balanced diet and a healthy lifestyle.

Storage:
Store in a cool and dry place away from heat sources. The expiry date refers to the unopened and properly stored product.
Quietus
mi ha permesso di sostituire un farmaco allopatico nella cura dell'insonnia
consigliatissimo
Lo uso ormai da molto tempo dopo averne provati altri ed assolutamente lo trovo il migliore, ed è ottimo per il relax ed il sonno naturale, ottimo supporto senza farmaci.
top
Un prodotto assolutamente valido, dopo aver provato molte altre marche posso assicurarne la validità! top
non è da molto che uso il Quietus, ma ha funzionato a dovere per ora.
All'occorrenza fa il suo dovere per offrire un buon riposo. ottimo