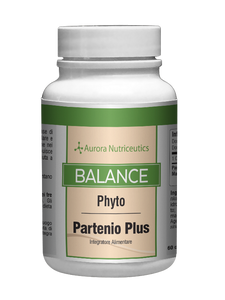 Partenium-based food supplement indicated to promote joint function and counteract localized tensions, is also useful in menstrual cycle disorders. Magnesium that contributes to normal muscle function, and vitamin B6 helps to regulate hormonal activity.
Ingredients:
Partenio ES - (Tanacetum parthenium Sch. Bip.) peep
Magnesium gluconate
Magnesium oxide
Vitamin B6 (Pyridoxine hcl)
Battery agent: Cellulose
Vegetable capsule: hydroxypropylmethylcellulose
Anti-caking agents: Vegetable magnesium stearate, silicon dioxide
Quantity per daily dose equal to 1 capsule:
Partenio ES 0.8% mg 400, Magnesium mg 59 - 15.7% RDA*, Vitamin B6 mg 6 - 428.5% RDA*.
*NRV: Nutrient Reference Values.
60 g vegetarian capsules 0.76 g Net Weight 45.6.
Usage mode:
1 capsules per day, preferably away from meals.
Warning:
Keep out of reach of children under three years of age, do not exceed the maximum recommended dose.
The supplements should not be intended as a substitute for a varied and balanced diet and a healthy lifestyle.

Conservation:
Store in a cool, dry place away from heat sources. The expiration date refers to the product in its packaging intact and correctly stored.
A mio figlio aiutano a diminuire gli attacchi di cefalea
Funziona davvero
Da anni soffrivo di forti cefalee. Ho provato di tutto poi una parente mi ha consigliato un rimedio semplicissimo il partenio di cui avevo già sentito parlare ma che avevo già provato senza risultati. Ho pensato che non fosse così efficace e l'ho voluto provare comunque… Lo assunto per 10 giorni e sono letteralmente rinata, non ho più avuto quelle terribili cefalee ed erano anni che non avevo uno stato di chiarezza e di rilassamento così… Provatelo! Altamente consigliato....