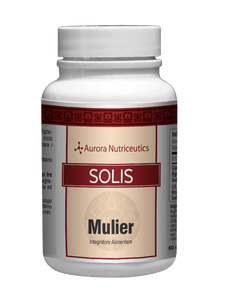 Food supplement based on Cyperus, Agnocasto, Angelica indicated to counteract menstrual cycle disorders, Soya and Angelica are useful for combating menopause disorders.
Ingredients:
Cyperus ES - (Cyperus rotundus L.) root

Chaste tree ES - (Vitex agnus-castus L.) fruit

Soy ES - (Glycine max (L.) Merr.) Seeds

Chinese Angelica - (Angelica sinensis Diels) root

Salvia ES - (Salvia officinalis L.) Leaves

Bulking agent: Cellulose

Anti-caking agents: Vegetable magnesium stearate, silicon dioxide

Vegetable capsule: hydroxypropylmethylcellulose

Quantity per daily dose equal to 2 capsules:
Cyperus 400 mg, Agnocasto 220 mg, Soya ES tit. 40% isoflavones 200 mg of which 80 mg isoflavones, Angelica 160 mg, Salvia 160 mg.
Content:
60 vegetarian capsules of 0.75 g Net weight 45 g.
How to use:
2 capsules a day, preferably between meals.
Warnings:
Contains soy.
Keep out of the reach of children under three years, do not exceed the maximum recommended dose.
Supplements are not intended as a substitute for a varied and balanced diet and a healthy lifestyle.

Storage:
Store in a cool and dry place away from heat sources. The expiry date refers to the unopened and properly stored product.
Prodotti ottimi
Complimenti per l'ottimo servizio e prodotti ottimi