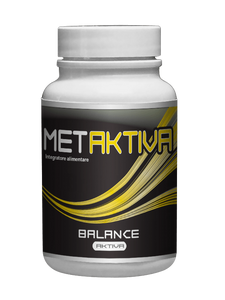 Food integrator based on amino acids and plant extracts such as Bitter Orange and Kelp indicated to promote body weight balance and support metabolism, green tea, which helps the physiological drainage of body fluids. Iodine (present in Kelp) contributes to normal thyroid function.
Ingredients:
Bitter orange ES - (Citrus aurantium L. var. bitter) immature fruit, titrated at 10% synephrine (other amines such as octopamine <, 1.25%)
L-glutamine
L-phenylalanine
L-taurine
The green ES - (Camellia sinensis L. Kuntze) leaves
Kelp ES - (Fucus vesiculosus L. ) - thallus titrated at 0.1% iodine
Billing agent: cellulose
Vegetable capsule: hydroxypropyl methylcellulose
Anti-caking agents: Vegetable magnesium stearate, silicon dioxide
Quantity per daily dose equal to 3 capsules:
Kelp pv mg 390, Bitter orange mg 300 (synephrine intake mg 30), L-glutamine mg 240, L-phenylalanine mg 240, L-taurine mg 240, The green mg 180, Fuco ES 0.1% mg 150 (iodine intake mcg 150) - *NRV 100%.
*NRV: Nutrient Reference Values
Contained:
60 g 0.79 capsules. Net weight 47.4 g
Usage mode:
3 capsules per day, preferably away from meals.
Warning:
The product is not recommended for use during pregnancy, while breastfeeding and under 12 years of age.
Consult your doctor before use if your cardiovascular conditions are not normal.
The product is not a substitute for a varied and balanced diet; it must be used as part of an adequate low-calorie diet following a healthy lifestyle with a good level of physical activity.
If the diet is followed for prolonged periods, longer than three weeks, it is advisable to seek medical advice
Keep out of reach of children under three years, do not exceed the maximum recommended dose.
The supplements should not be intended as a substitute for a varied and balanced diet and a healthy lifestyle.

Preservation:
Preserve in a cool, dry place away from heat sources. The expiration date refers to the product in intact and properly stored packaging.
Calore ed energia
Da anni soffrivo di forte stanchezza, pressione bassa e bassa temperatura. Ho iniziato ad integrare Metaktiva e il mio corpo si è letteralmente riacceso. Lo assumo regolarmente per mantenermi energetica soprattutto con i primi freddi invernali.
buon prodotto , risponde ai miei bisogni.