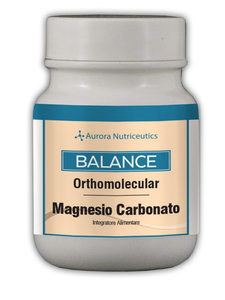 Magnesium is a magnesium dietary supplement indicated in cases of reduced dietary intake or increased need for this nutrient. Magnesium is involved in numerous biochemical processes such as cell division. It also contributes to normal protein synthesis, electrolytic balance and normal muscle and metabolic-energetic functions.
Ingredients:
Quantity per daily dose of 2 scoops:
Magnesium mg 446 (118% NRV*)
*NRV = Nutrient Reference Values
Net Weight g 60
Usage mode:
Half a scoop (equal to 870mg) twice a day, preferably away from meals, Dissolve in a glass of hot water or at room temperature.
Warning:
Keep out of reach of children under three years old, do not exceed the maximum recommended dose.
The supplements should not be intended as a substitute for a varied and balanced diet and a healthy lifestyle.

Conservation:
Store in a cool, dry place away from heat sources. The expiration date refers to the product in its packaging intact and correctly stored.
Loredana
Lo uso da molti anni ed è un ottimo prodotto
ok
Penso che sia un ottimo prodotto, il magnesio fa bene ai muscoli e per eliminare la stitichezza, consegna puntuale.
Tutto nella norma, prodotto spedizione e costi OK!
consigliati
Mi sta aiutando molto a riprendermi da un grave blocco. Sono molto soddisfatto del servizio chat fornito. Continuerò sicuramente a fare acquisti in questo negozio. Consigliabile al 100%.
ottimo, consegna nei tempi prodotto di buona qualità