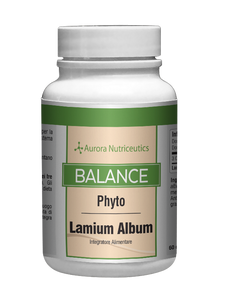 Food integrator useful for the fluidity of bronchial secretions and functionality of the digestive system.
Ingredients:
Lamium album ES (Lamium album L.) flowers
Vegetable capsule: hydroxypropylmethylcellulose
Battery agent: cellulose
Anti-caking agents: Vegetable magnesium stearate, silicon dioxide
Quantity per daily dose equal to 3 capsules:
60 g vegetarian capsules 0.71 g Net Weight 42.6
Usage mode:
3 capsules per day with water, preferably away from meals.
Warning:
Keep out of reach of children under three years old, do not exceed the maximum recommended dose.
The supplements should not be intended as a substitute for a varied and balanced diet and a healthy lifestyle.

Conservation:
Store in a cool, dry place away from heat sources. The date of last use refers to the product in its packaging intact and correctly stored.