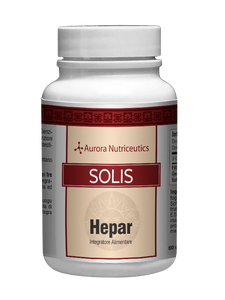 Food supplement based on Fillanto, Genziana, Schisandra, Aloe, Rosemary indicated for liver functions, Mulberry indicated for the regularity of intestinal transit.

Ingredients:
Fillanto ES - (Phyllanthus niruri L.) leaves

Gentian ES - (Gentiana lutea L.) root

Schisandra ES - (Schisandra Chinensis Baill.) Fruits

White mulberry - (Morus alba L.) leaves

Aloe ES - (Aloe vera L.) juice

Rosemary O.E. (Rosmarinus officinalis)

Anti-caking agents: Vegetable magnesium stearate, cellulose m.c., silicon dioxide

Vegetable capsule: hydroxypropylmethylcellulose

Amount per daily dose of 3 capsules:
Fillanto mg 540, Gentian mg 450, Schisandra mg 360, White mulberry mg 300, Aloe mg 150, O.E. Rosemary 3.75 mg.
Content:
60 vegetarian capsules of 0.76 g Net weight 45.6 g.
How to use:
3 capsules a day, preferably between meals.
Warnings:
Keep out of the reach of children under three years, do not exceed the maximum recommended dose.
Supplements are not intended as a substitute for a varied and balanced diet and a healthy lifestyle.

storage:
Store in a cool and dry place away from heat sources. The expiry date refers to the unopened and properly stored product.
well done
My wife uses this product and she's very satisfied about it.
ottimo
Prodotto sperimentato da tempo. Parere molto positivo
consigliato
Ottimo prodotto con alta titolazione dei principi attivi! Assolutamente consigliato