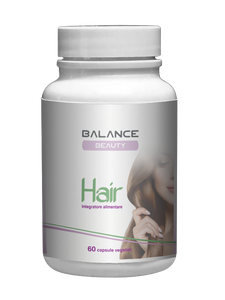 Food integrator based on Ornithine, Tyrosine, Chinese Angelica, White Mulberry and Biotin which contributes to the maintenance of normal hair.
Ingredients:
L-Ornithine Hcl
L-Tyrosine
Chinese Angelica ES (Angelica sinensis Diels) root
White jelly ES (Morus alba L.) leaves
Biotin
Battery agent: Cellulose
Vegetable capsule: hydroxypropylmethylcellulose
Anti-caking agents: Vegetable magnesium stearate, silicon dioxide
Quantity per daily dose equal to 1 capsule:
Ornithine mg 130, Tyrosine mg 130, Chinese Angelica mg 80, White Mulberry mg 80, Biotin mcg 450 - (900% *NRV).
*NRV Nutritive Value Reference
60 g vegetarian capsules 0.62 g Net Weight 37.2
Usage mode:
1 capsules per day, preferably away from meals.
Warning:
Keep out of reach of children under three years of age, do not exceed the maximum recommended dose.
The supplements should not be intended as a substitute for a varied and balanced diet and a healthy lifestyle.

Conservation:
Store in a cool, dry place away from heat sources. The expiration date refers to the product in its packaging intact and correctly stored.
premesso che i miracoli non si fanno, il prodotto è buono. dopo dieci giorni circa i capelli sono sensibilmente più forti, la caduta stagionale sembra arrestarsi e le unghie sono molto forti. E' un prodotto che uso da anni e lo consiglio.
Ormai lo uso da diversi anni perchè appena iniziai a prenderle notai subito benefici, la differenza nella morbidezza dei capelli, crescono più velocemente e sani, le unghie sono più dure e resistenti, la pelle è più elastica e morbida. Di solito faccio una pausa di 2 mesi poi ricomincio. La consiglio a tutti, i prodotti Aurora Nutriceutics sono il top