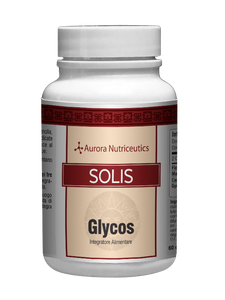 Food supplement based on Magnolia, Fenugreek, Gymnema, Momordica, Cinnamon indicated in carbohydrate metabolism, Chromium contributes to the maintenance of normal blood glucose levels.
Ingredients:
Fenugreek ES - (Trigonella foenum-graecum L.) seeds

Magnolia ES - (Magnolia officinalis Rehder) bark

Cinnamon ES - (Cinnamomum zeylanicum Blume.) Bark

Gymnema ES - (Gymnema sylvestre R. Br.) Leaves

Momordica ES - (Momordica charantia L.) fruits

Fennel OE (Foeniculum vulgare Mill.)

Chromium picolinate

Vegetable capsule: Hydroxypropylmethylcellulose

Anti-caking agents: Vegetable magnesium stearate, silicon dioxide

Quantity per daily dose equal to 2 capsules:
Fenugreek 240 mg, Magnolia 200 mg, Cinnamon 180 mg, Gymnema 160 mg, Momordica 120 mg, Fennel O.E. 1.66 mg, Chromium mcg 200 - 500% * NRV.
* NRV Nutritional Reference Value
Content:
60 vegetarian capsules of 0.64 g Net weight 38.4 g
How to use:
2 capsules a day, preferably between meals.
Warnings:
Keep out of the reach of children under three years, do not exceed the maximum recommended dose.
Supplements are not intended as a substitute for a varied and balanced diet and a healthy lifestyle.

Storage:
Store in a cool and dry place away from heat sources. The expiry date refers to the unopened and properly stored product.
l'ho provato con benefici e poi l'ho fatto provare anche a mia moglie che aveva colesterolo alto...lo usa da molto ormai e i risultati sono ottimi. Lo consiglio.
Did exactly what I needed them to and would happily purchase more.
bene
personalmente l'ho trovato adatto al mio problema, grazie mi è stato davvero utile.
benissimo tanto che dopo una settimana il mio dolore è in diminuizione...5 stella a breve se va avanti cosi.