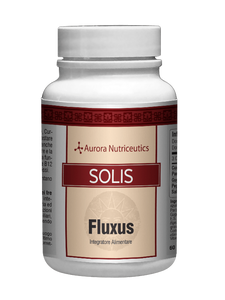 Food supplement based on feverfew, turmeric and Salvia miltiorrhiza which help to counteract menstrual cycle disorders, Salvia miltiorrhiza is also indicated in the functionality of the cardiovascular system and the regularity of blood pressure, Black pepper regulates the functionality of the cardio vascular system , Vitamin B6 and B12 contribute to the normal formation of red blood cells.
Ingredients: 
Turmeric ES (Curcuma zedoaria Rosc.) Rhizome

Guggul ES - (Commiphora mukul Hook) resin

Black pepper ES - (Piper nigrum L.) fruit

Feverfew ES (Tanacetum parthenium Sch. Bip.) Aerial parts

Salvia ES - (Salvia miltiorrhiza Bge.) Root

Coenzyme Q10 (Ubiquinone)

Vitamin B6 (Pyridoxine hydrochloride)

Bitter Orange OE (Citrus aurantium L.)

Vitamin B12 (Cyanocobalamin)

Vegetable capsule: Hydroxypropylmethylcellulose

Anti-caking agents: Vegetable magnesium stearate, silicon dioxide

Quantity per daily dose equal to 1 capsule:
Turmeric 150 mg, Feverfew mg 100, Guggul mg 80, Black pepper mg 70 mg, Salvia Miltiorrhiza mg 60, Coenzyme Q10 mg 10, Vitamin B6 mg 3 - 214% * NRV, Bitter Orange O.E. 1.25 mg, Vitamin B12 mcg 3.75 - 150% * NRV.
* NRV: Nutrient Reference Values
Content:
60 vegetarian capsules of 0.73 g Net weight 43.8 g.
How to use:
1 capsule per day, preferably between meals.
Warnings:
Keep out of the reach of children under three years, do not exceed the maximum recommended dose.
Supplements are not intended as a substitute for a varied and balanced diet and a healthy lifestyle.

Storage:
Store in a cool and dry place away from heat sources. The expiry date refers to the unopened and properly stored product.
Avevo una cefalea da tanto tempo soprattutto con il ciclo e mi è stato indicato Fluxus. Devo dire che non so se sia un caso ma ha funzionato subito e di solito portavo avanti per almeno 3 giorni il mal di testa. Con Fluxus qualche giorno prima del ciclo non sento più la cefalea e posso vivere normalmente. Che sollievo!
ottimo
Ottimo prodotto, lo uso per la circolazione quando sento muscoli e gambe stanche. Ho problemi di circolazione e questo prodotto è il primo che mi aiuta davvero.