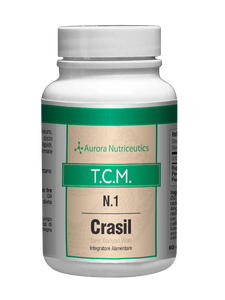 Food integrator based on Bupleuro, Poria, Peony useful in combating menstrual cycle disorders, Bitter Orange helps lipid metabolism, Chinese Angelica acts favorably to normal blood circulation.
Ingredients:
Bupleuro ES - (Bupleurum chinense DC.) root
Peonia ES - (Paeonia lactiflora Pall.) root
Poria pv. - (Poria cocos - F. A. Wolf) sclerotium
Chinese Angelica ES - (Angelica sinensis Diels.) root
Bitter orange ES - (Citrus aurantium L. var. amara) immature fruit, titrated at 10% in synephrine (other amines such as octopamine)
Battery agent: Cellulose
Vegetable capsule: hydroxypropylmethylcellulose
Anti-caking agents: Vegetable magnesium stearate, silicon dioxide
Quantity per daily dose equal to 3 capsules:
Bupleuro mg 450, Peony mg 390, Poria mg 360, Chinese Angelica mg 150, Bitter Orange mg 150 of which 15 mg synephrine.
60 g vegetarian capsules 0.7 g - Net Weight 42
Usage mode:
3 capsules per day, preferably away from meals.
Warning:
We do not recommend the use of the product during pregnancy, while breast-feeding and under 12 years of age.
Consult your physician before use if your cardiovascular conditions are not normal.
Keep out of reach of children under three years old, do not exceed the maximum recommended dose.
The supplements should not be intended as a substitute for a varied and balanced diet and a healthy lifestyle.

Conservation:
Store in a cool, dry place away from heat sources. The expiration date refers to the product in its packaging intact and correctly stored.
super
Ahhhhh, je ne peux plus m'en passer. Je passe des heures au bureau sans bouger, les jambes finissent par gonfler. Ils ne me quittent plus.
Non sapevo che esistevano prodotti di questo tipo, ora che li ho provati non tornerò mai più indietro. Semplici da usare.
testando
Buongiorno o ordinate dei prodotti e sono arrivati in modo veloce ancora non ne posso parlare xche li prendo da poco!!
positivo
E' la seconda volta che compro i vostri prodotti, in particolare degli integratori alimentari. Per quanto riguarda l'efficacia dei prodotti mi sento di esprimere, un mio personale giudizio, dopo aver terminato l'assunzione di questi ultimi. Le prerogative sembrano positive.
Spedizione consegnata nei termini ricevuti con pacco a basso impatto ambientale.