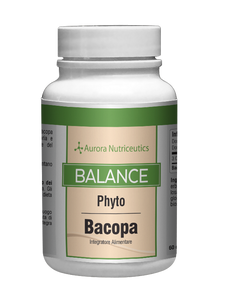 Bacopa-based food integrator indicated to promote memory and cognitive functions. Adjuvant of mental wellbeing and relaxation.
Ingredients:
Bacopa ES - (Bacopa monnieri L.) grass
Battery agent: Calcium phosphate
Vegetable capsule: hydroxypropylmethylcellulose
Anti-caking agents: Vegetable magnesium stearate, silicon dioxide
Quantity per daily dose equal to 3 capsules:
60 g Plant Capsules Net Weight g 0.53 g Net Weight g 31.8
Usage mode:
3 capsules per day with water, preferably away from meals.
Warning:
Keep out of reach of children under three years old, do not exceed the maximum recommended dose.
The supplements should not be intended as a substitute for a varied and balanced diet and a healthy lifestyle.

Conservation:
Store in a cool, dry place away from heat sources. The expiration date refers to the product in its packaging intact and correctly stored.
Prodotto notevole,dopo pochi giorni di assunzione mi ha regalato un rilassamento dato il momento di stress che sto affrontando
eccezzionale se avete bisogno di stare tranquilli.Io ne prendo due la mattina e una nella tarda serata per dormire tranquilla.
bene
Ottimo prodotto un aiuto a bilanciare ilmio equilibrio latente di tranquillità.
consigliato
Un po' distante dal curarsi con prodotti naturali all'inizio, d'altronde in casi seri credo che la sintesi sia necessaria ma per piccole ansie e nervosisimi quotidiani come ben tutti consciamo quotidiane è assolutamente di parola. in tutta la famiglia e anche nel palazzo ho diffuso la buona abitudine di assumerlo e tutti lo trovano ok, tutti affermano di dormire meglio assumendolo alla sera, contrastando l'ansia del risveglio. Buon prodotto consigliato
Prodotto già provato! Davvero valido