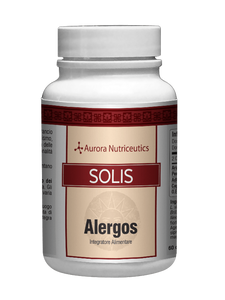 Food supplement based on bitter orange, Perilla indicated for the body's natural defenses, Adhatoda and Thyme essential oil useful for the fluidity of bronchial secretions, Caper indicated for the functionality of the upper respiratory tract.
Ingredients:
Bitter orange ES - (Citrus aurantium L. var.amara) immature fruit, titrated at 10% in synephrine (other amines such as octopamine <1.25%)

Perilla ES - (Perilla frutescens Britton) leaves

Adhatoda ES - (Adhatoda vasica Nees) leaves

Caper E.S. - (Capparis spinosa L.) flowers

White thyme O.E. (Thymus serpyllum L. s.l.)

Vegetable capsule: Hydroxypropylmethylcellulose

Bulking agent: Cellulose

Anti-caking agents: Vegetable magnesium stearate, silicon dioxide

Quantity per daily dose equal to 2 capsules:
Bitter orange 280 mg (of which synephrine 28 mg) Perilla 220 mg, Adhatoda 220 mg, Caper 200 mg, O.E. White thyme 2.5 mg.
Content:
60 vegetarian capsules of 0.7 g Net weight 42 g 
How to use:
2 capsules a day, preferably between meals.
Warnings:
It is not recommended to use the product during pregnancy, lactation and under 12 years. Consult your doctor before use if your cardiovascular conditions are not normal.
Keep out of reach of children under 3 years, do not exceed the maximum recommended dose. 
Supplements are not intended as a substitute for a varied and balanced diet and a healthy lifestyle. 

Storage:
Store in a cool and dry place away from heat sources. The expiry date refers to the unopened and properly stored product.
Assumo da anni Alergos con soddisfazione
Sto usando questo prodotto prescrittomi dal medico da circa due mesi, penso sia ancora presto dare una valutazione
Ho bisogno di più tempo per testarne l'efficacia. In questi giorni sta piovendo spesso e questo abbatte i pollini riducendo i sintomi da allergia. Si conseguenza non posso capire quanto sia efficace il prodotto.
il mio osteopata mi ha consigliato il prodotto per il mio problema, diciamo che il suo lavoro con l'implemento di questo integratore ha dato risultati rapidi ed inaspettati dato che erano anni che nessuno riusciva a risolvermi il problema, grazie