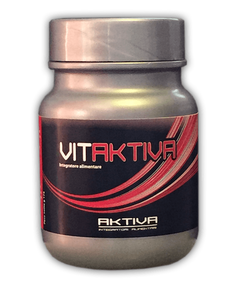 Food integrator based on Pineapple, Arginine and Alkaline mineral salts such as Potassium and Sodium in the form of Citrate and Sodium Bicarbonate.
Ingredients:
Fruttose
Sodium citrate
Pineapple pv.
Arginine aspartate
Aroma orange
Potassium citrate
Sodium bicarbonate
Anti-caking agents: Silicon dioxide
Quantity per daily dose of 3 scoops:
Arginine Aspartate mg 600, Pineapple pv mg 900, Potassium mg 54 - 27% RDA*.
* NRV Nutritive Reference Value.
Usage mode:
Dissolve one measuring cup (notch 1/3 inside the measuring cup equal to 2, 3 g) in a glass of water, 3 times a day preferably away from meals.
Warning:
Keep out of reach of children under three years old, do not exceed the maximum recommended dose.
The supplements are not intended as a substitute for a varied and balanced diet and a healthy lifestyle.
Preserve:
Preserve in a cool and dry place away from heat sources. The expiration date refers to the product in the package intact and properly stored.
Super
Utilizzo vitaktiva principalmente in estate e mi sono trovata molto bene.
consigliato
Lo sto prendendo da poco ma devo dire che ho sentito sin dalla prima assunzione i benefici, contino e feedback prossimo di revisione. buon lavoro
L'ordine ci ha messo un pò ma è andato tutto bene
top!!!
TOP! VELOCISSIMI, CREDO LO RIUTILIZZERO.