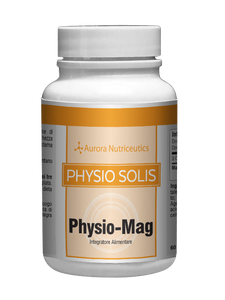 Magnesium food supplement that contributes to: the reduction of tiredness and fatigue, the normal functioning of the nervous system and muscle function, the maintenance of bones and teeth.
Ingredients:
Magnesium chloride

Magnesium citrate

Magnesium gluconate

Magnesium pidolate

Vegetable capsule: hydroxypropylmethylcellulose

Anti-caking agents: Vegetable magnesium stearate, silicon dioxide

Bulking agent: Cellulose

Amount per daily dose of 3 capsules:
Magnesium mg 146 - 38.9% NRV*.
* NRV: Nutrient Reference Values.

Content:
100 vegetarian capsules of 0.60 g Net weight 60 g.
How to use:
3 capsules a day, preferably between meals.
Warnings:
Keep out of the reach of children under three years, do not exceed the maximum recommended dose.
Supplements are not intended as a substitute for a varied and balanced diet and a healthy lifestyle.

Storage:
Store in a cool and dry place away from heat sources. The expiry date refers to the unopened and properly stored product.

physio mag
Le 4 formulazioni di magnesio si associano benissimo per un beneficio davvero a 360°: ristabilisce elasticità muscolare e cognitiva. Valido anche nei casi di stress scolastico quando insorgono ansia ed irrigidimento
This is an extremely effective product, and has improved quality of sleep (waking up less at night) and reduced night time leg cramps.