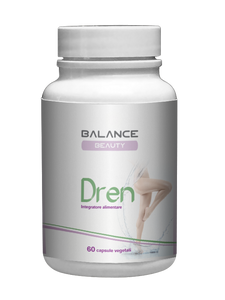 Food integrator based on Plantain, Birch, helps the drainage of body fluids and the functionality of the urinary tract, Centella helps to counter the imperfections of cellulite and the functionality of microcirculation, Rhubarb useful to regulate the intestinal transit, Magnesium and Calcium.
Ingredients:
Piantage ES - (Plantago Major L.) leaves
Betulla ES - (Betula pendula Roth.) leaves
Centella ES - (Centella asiatica L) top
Magnesium pidolate
Calcium Carbonate
Rabarbaro ES - (Rheum palmatum L.) root
Battery agent: Cellulose
Vegetable capsule: hydroxypropylmethylcellulose
Anti-caking agents: Vegetable magnesium stearate, silicon dioxide
Quantity per daily dose equal to 3 capsules:
Piantage mg 390, Birch mg 360, Centella mg 300, Rhubarb mg 150.
60 vegetarian capsules g 0.77 - Net Weight g 46.2.
Usage mode:
3 capsules per day with water, preferably away from meals.
Warning:
Keep out of reach of children under three years old, do not exceed the maximum recommended dose.
The supplements should not be intended as a substitute for a varied and balanced diet and a healthy lifestyle.

Conservation:
Store in a cool, dry place away from heat sources. The expiration date refers to the product in its packaging intact and correctly stored.
il prodotto è molto buono ma la spedizione in contrassegno è un po' costosa
bene
mi sto trovando molto bene, sono soddisfatta
Ottimo prodotto
Ho già provato molti prodotti senza risultati. Ma questi hanno davvero funzionato! io sono una persona che si gonfia facilmente sia le gambe che i fianchi specialmente con il calore o dopo una lunga giornata di lavoro quando sto in piedi tutto il tempo, ho le vene varicose e con la ritenzione mi fa incredibilmente male molte volte, ho fatto il mio secondo ordine!
Sono più che soddisfatto e continuerò ad acquistarli!
funziona
visibili risultati già dopo le prime settimane, gambe leggere e ritenzione sparita. un valido aiuto se ci si tiene con attenzione
come tutti d'altronde ero scettica su questo prodotto sapendo quante aziende pur di vendere promettono ogni cosa, perché non ho mai avuto benefici dai prodotti per drenare. Mi sono convinta a dargli una possibilità dopo aver sentito opinioni di persone a me vicine positive.. Ho iniziato a prendere DREN in un periodo già difficile in più accentuata dal periodo di quarantena.. insomma non potevo crederci.. INCREDIBILE! non mi sembrava davvero possibile, ma questo prodotto è stata una potenza della natura, perché ha sicuramente svolto al meglio il drenaggio dei liquidi in eccesso su cosce, zona sotto glutei ecc...da non dimenticare ovviamente è che nessun prodotto fa i miracoli ma l'alimentazione e cura di se sono fondamentali! Davvero merita